See part 1 for the introduction.
I decided as this was going to be a permanent project I should make a case for it. Nowadays this is now really easy to make a custom case yourself using 3D printing – and since I've discovered 3dhubs.com you don't even need your own printer. Just upload your design files and you can get an immediate quote, and then printed and delivered to you. These two parts cost around £9 including delivery, and took about a week in total.
Design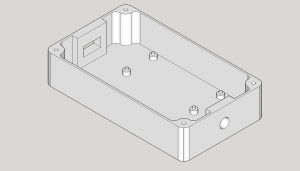 I used Google Sketchup, which worked pretty well after I got used to its way of working. It's not immediately obvious how to specify dimensions for a shape, but there are plenty of online tutorials. You'll need to install the STL plugin, since most 3d printers (and 3dhubs.com) use this file format. Use my referral code and you can get $10 off (min order $25) your first 3d print with 3d hubs: http://3dhubs.refr.cc/KP6KC63
I decided to keep the box as simple as possible, so it only has locating holes for the raspberry pi, not screw in. I'll put some blutack or something on the back to keep it from coming out. I also used a thicker part where the USB cable fits through with an interference fit, this means I can stick it straight into a USB charger socket. I might put some sugru around it to hold it in place a bit more securely, but it seems fine for now.
If you want to use my design files you can download them here:
case-top.stl
case-base.stl
Printing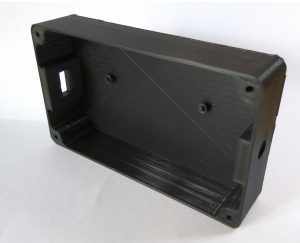 The case turned out pretty well. I chose PLA material at 100nm resolution was the cheapest. The main top part of the case came with a small membrane on the antenna and USB holes, but I just cut that away with a knife.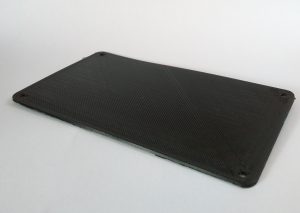 The base plate was warped, so I think in future for a large thin surface like this, it really needs some ribs adding. I don't think it will matter too much when I find 4 M3 screws to secure it to the top. The base plate and back of the top case (not seen in pictures) also had some defects, it doesn't affect the strength of the case, but it does look ugly. Even the top has a striped surface, so it is not smooth like an injection moulded part. It's fine for a one of project but I probably wouldn't want to sell something 3d printed with PLA at this resolution.
Code will come in part 3!